idea seed
Imagine how one single seed can grow into heavy forest
Hi everyone :)
Thank you for visiting this site,

​This site is created to spread the seeds of idea. All the plants start life as a seed. Imagine if one single seed can spreads. It will grow into tree that produce another seeds. The more it spreads, the more trees will grow. Please help me to create heavy forest of idea!
​
I try to curate the inspiring ideas among huge amount of seeds out there. Oh, and I don't own the content that published on this site. You can learn more about the idea by clicking link that I provide at the bottom of each post. I try my best to give credit to the original source of those amazing ideas. If you found that my link doesn't point to the owner, please let me know. Also if you have an idea and want to share it in idea seed, please don't hesitate to reach me at andiyanto@outlook.com

Happy Seeding!
---

​Announcement:
I'm currently under process of building this site. If you encounter any broken link or empty page, please kindly tell me and sorry for the inconvenience :)

​

Powered by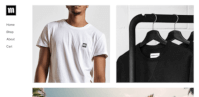 Create your own unique website with customizable templates.